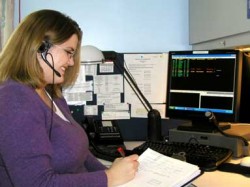 Our department is dispatched by the Strafford County Dispatch Center, located at the Superior Court Building in Dover.  The Strafford County Dispatch Center dispatches for Farmington, Milton, Middleton, New Durham, Strafford, Barrington, Rollinsford, Lee, Durham and the Strafford County Sherrifs Department as well as several of these communities' Fire & Rescue.
They are open 24 hrs and can be reached by calling 742-4968 (or 755-2231 for Farmington Residents).
The following men & women serve as dispatchers for the Strafford County Dispatch center:
Dispatch Supervisor Janet Eldridge
Asst. Supervisor Sarah Douglas
Full Time Dispatcher Cait Godfrey
Part Time Dispatcher Bonnie Voye
Full Time Dispatcher Lindsay Craft
Full Time Dispatcher Randi Voye
Full Time Dispatcher James Gannon
Full Time Dispatcher Michael Peterson
Full Time Dispatcher Cecelia Carll
Full Time Dispatcher Shannon Jerard
Full Time Dispatcher Kelly Frost
Part Time Dispatcher Deborah Millspaugh
Part Time Dispatcher Jaime Reed
To learn more about the services provided by the Strafford County Sherrif's Office and Dispatch Center or to leave feedback visit the Strafford County Sheriff's Department's website.