Welcome to the Farmington Police Department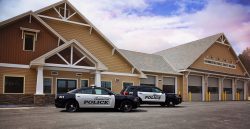 The Farmington Police Department, led by Chief Scott Orlando, strives to protect & serve its community in a manner consistent with the rights & dignity of all persons as provided for by law & under the Constitutions of the United States & the State of New Hampshire.
In furtherance of these goals, this site is home to information and resources we hope you will find useful.  Although we strive to update this site on a regular basis, sometimes it is difficult.
Thank you for visiting our website.  Feel free to stop by the new Public Safety Building located at 160 Main Street.  Time permitting we enjoy showing people around the new building.