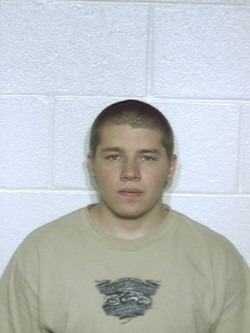 The Farmington Police Department is attempting to locate a man who dragged one police officer and nearly ran over another officer while fleeing from a parking lot. The department has an arrest warrant for:
ANTHONY B. BLEYL, AGE 24
11 WORSTER STREET, APT. 4
FARMINGTON, NEW HAMPSHIRE
Bleyl is wanted for Attempted First Degree Assault (on a Police Officer), Attempted Second Degree Assault (on a Police Officer), Conduct After An Accident, Disobeying An Officer, and Operating Without a Valid License. The incident occurred in the parking lot of an apartment building located behind the Police Department at approximately 1:45 AM in Farmington on January 28, 2011.
Officers originally responded to the parking lot to check on the welfare of Bleyl at the request of Rochester Police Department due to an earlier incident in Rochester. As Sgt. Michael McNeil approached the vehicle that Bleyl was driving, a 1993 blue Jeep Cherokee with NH Reg. 295 2272, to insure that Bleyl was alright, Bleyl locked the doors and accelerated through the parking lot. Sgt. McNeil had reached for the door handle to open the door and was dragged by the vehicle.
After Sgt. McNeil let go of the vehicle, it continued through the parking lot where it struck the corner of the apartment building. Sgt. John Drury was waving his arms while standing in the driveway yelling for Bleyl to stop. Bleyl continued to accelerate toward Sgt. Drury who dove out of the way to avoid being struck landing on a set of wood stairs.
Neither officer was seriously injured or required medical attention.
The Jeep was last seen on Civic Street in Farmington. It should have front end and passenger side damage from the collision with the apartment building.
BLEYL is a thin white male, 5'4" tall, weighing approx. 140 lbs with blue eyes and short blond hair. A recent photo of BLEYL is attached to this press release.
The department does not have any information that BLEYL is armed at this time. The public should not attempt to apprehend BLEYL but should notify their local police department.