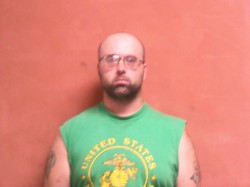 The Farmington Police Department arrested a suspect on 07/31/12 for allegedly exposing himself to an 11 year old girl on Mechanic Street. The following subject was charged with Indecent Exposure and Lewdness; RSA 645:1 (Class A misdemeanor).
CONRAD PARENT, AGE 29
87 Elm Street, Farmington, NH
The initial report of the incident was made to the department by the young girl's mother on 07/10/12. During the course of the investigation and after conducting interviews, it was determined that the alleged incident occurred in the backyard of the victim's house while she was letting her dog out.
PARENT was processed and released on $2000 Personal Recognizance bail. He is scheduled to be arraigned on August 21, 2012.